Can a woman have risk-reducing surgery if she has already been diagnosed with breast cancer?  
Yes. Some women who have been diagnosed with cancer in one breast, particularly those who are known to be at very high risk, may consider having the other breast (called the contralateral breast) removed as well, even if there is no sign of cancer in that breast. Prophylactic surgery to remove a contralateral breast during breast cancer surgery (known as contralateral prophylactic mastectomy) reduces the risk of breast cancer in that breast (2,4,5,13), although it is not yet known whether this risk reduction translates into longer survival for the patient (13).
However, doctors often discourage contralateral prophylactic mastectomy for women with cancer in one breast who do not meet the criteria of being at very high risk of developing a contralateral breast cancer. For such women, the risk of developing another breast cancer, either in the same or the contralateral breast, is very small (14), especially if they receive adjuvant chemotherapy or hormone therapy as part of their cancer treatment (15,16).
Given that most women with breast cancer have a low risk of developing the disease in their contralateral breast, women who are not known to be at very high risk but who remain concerned about cancer development in their other breast may want to consider options other than surgery to further reduce their risk of a contralateral breast cancer.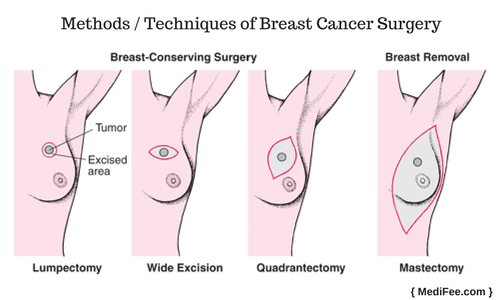 Photo from Medifee
What are the potential harms of risk-reducing surgeries?
As with any other major surgery, bilateral prophylactic mastectomy and bilateral prophylactic salpingo-oophorectomy have potential complications or harms, such as bleeding or infection (17). Also, both surgeries are irreversible.
Bilateral prophylactic mastectomy can also affect a woman's psychological well-being due to a change in body image and the loss of normal breast functions. Although most women who choose to have this surgery are satisfied with their decision, they can still experience anxiety and concerns about body image (18,19). The most common psychological side effects include difficulties with body appearance, with feelings of femininity, and with sexual relationships (19). Women who undergo total mastectomies lose nipple sensation, which may hinder sexual arousal.
Bilateral prophylactic salpingo-oophorectomy causes a sudden drop in estrogen production, which will induce early menopause in a premenopausal woman (this is also called surgical menopause). Surgical menopause can cause an abrupt onset of menopausal symptoms, including hot flashes, insomnia, anxiety, and depression, and some of these symptoms can be severe. The long-term effects of surgical menopause include decreased sex drive, vaginal dryness, and decreased bone density.
Women who have severe menopausal symptoms after undergoing bilateral prophylactic salpingo-oophorectomy may consider using short-term menopausal hormone therapy after surgery to alleviate these symptoms. [The increase in breast cancer risk associated with certain types of menopausal hormone therapy is much less than the decrease in breast cancer risk associated with bilateral prophylactic salpingo-oophorectomy (20).]
This is an National Cancer Institute article about some quick facts of breast cancer.
50gram's intention is to share these information for fair-use and educational purposes.
All rights reserved to National Cancer Institute.