Hey,
Here's a true story on how I managed to make my girlfriend's day when I was still studying in London.
*Warning, long story ahead*
If you're working at the moment, then this probably isn't the right time to read this fairytale…
But here goes…
Since I need to keep this personal, let's call her J in this email.
It happened about a year ago on 13th January 2019 and J's birthday was on the 15th.
I was still in London doing my further studies back then.
And you probably already know what the problem with long-distance relationships is…I can't make it on her birthday.
Not to mention I'm 8 hours behind her timezone…
J was pretty emotional about it… I mean, who wouldn't.
All J wanted was to celebrate one of the most important days together.
We had a conversation about it and I apologized A LOT.
J was constantly moody, depressed, and down about it. It happened a lot throughout the year too…because she misses me.
Most of the time, she said: "I really wish you're here…" As a boyfriend, you'd be pretty frustrated about it too.
I couldn't actually DO anything. I could only TALK about it and at least comfort her…which made me felt really useless as a guy…
All the men out there you feel me? Or is it just me…?
And I started to think…
"What can I buy for her that doesn't require me to actually be there? Something that could represent a part of me being there for her."
We're nearly halfway across the globe from each other…
And then I had an idea. "What if I could buy J something from KL instead?"
Plus J's the kind of girl who goes really well with pink-coloured stuff.
"So what do girls like but in pink…hmmm… They must love flowers, right?"
I know…very cliche…but I'm THAT kind of guy who thought flowers would be the answer.
So I took out my debit card and ordered a bouquet that I thought would suit her and have it delivered to her on the 15th, 3 pm.
Maybe I wasn't so useless after all huh…
J received it on the 15th, 3 pm and sent a photo to me through Snapchat.
I thought "Hey, these look prettier in real life. Not bad on my part haha."
And then she told me something that I knew I scored on my part. The feeling when you scored straight A's in an exam.
"Thank you so much for your effort…I love you, babe. They're beautiful…"
What can I say…if she's happy, then I'm happy… She's my princess after all.
Apparently, she had a little photoshoot with this bouquet after that.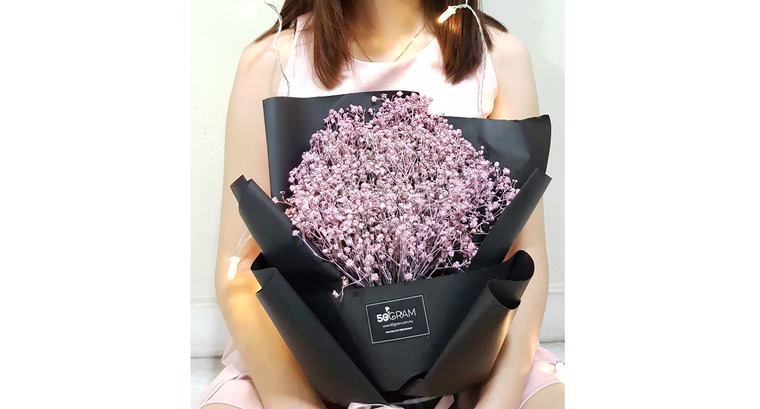 This is the only picture I have till now and I can't really show her face…
So apparently, this Baby Pink is sort of like her spirit bouquet. Like how everyone has their spirit animal that kinda thing.
In the end, you could say this was a happy ending for this story right here…
To the guys out there, maybe making her happy isn't so challenging after all. It's just sometimes we overthink. She might be waiting for your surprise!
So surprise her, do something for her, make her day with bouquets that she'll love. Check them out here.
Every day is a special day if you want it to be…
Have a great day ahead!
– Sang