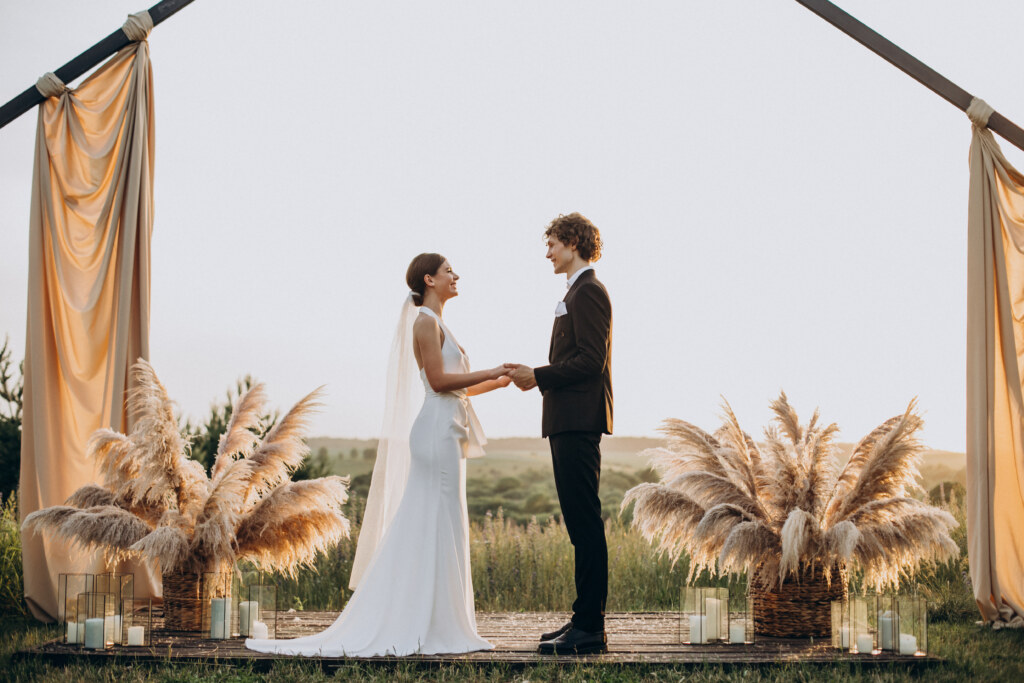 Wedding wishes are typical and fantastic to commemorate the newly married couple's wedding day and fresh start together. We have put up the best wedding wishes guide to take the worry out of what to express in a wedding card or how to express wedding wishes. Our comprehensive guide has covered your search for religious wedding wishes, bridal wishes for family or friends, amusing wedding texts, etc. Express your warmest blessed with personalized wedding cards for the ideal wedding congrats.
Scroll through our complete guide or move right to the area that interests you:
Wedding Blessing Messages
Congratulations are relevant no matter which side of the divide you are already on. Whether you've been closest friends with the bride for decades and have only recently met the groom or knew both parties intimately, a heartfelt wedding congrats greeting can never go unnoticed. To get started on your wedding card, go back to step one and choose one of your favourite congratulation phrases from the list below, or combine it with your own words.
Congratulations and have a wonderful day for your wedding, you two great people!

This merits congrats and, most likely, champagne.

As the years past, I hope you become even greater friends and experience every sort of joy life offers. Congratulation!

May your marriage have all the necessary ingredients: a hefty serving of love, a dash of silliness, passion, and a spoonful of compassion. May your happiness continue forever. Congratulations!

Your wedding day will pass through, but your love will endure. Best wishes to the perfect couple! Wishing you all the best.

May your love for each other remain sturdy and robust through life's storms. On your wedding day, hoping the two of you love and happiness. Congratulations!

Congratulations on having found each other! The excitement of your life adventure has just begun.

Congratulations on your momentous day! May your wedding be full of beautiful moments you will cherish for the rest of your life!

Congratulations on your marriage! Wish you full of love and happiness.

You two work well together. I'm ecstatic for you two!
Casual Wedding Wishes
When the couple reads their wedding cards after the ceremony, they will appreciate reading each card for various reasons, but most significantly, because of who they are from. Be yourself when composing your wedding card, and let your personality shine. There's nothing wrong with making your desires short and sweet if you're more relaxed. Make sure you expand on your congrats and offer something from the heart.
Best regards!

We're/I'm thrilled for you!

Wishing you the best and lots of happiness and love.

I hope you have a happy and long marriage.

I wish you all the best now and always.

I'm so excited to share this special day with you both!

Best wishes for a happy future together.

I wish you the realization of all your dreams!

Time passes, and things change, but I desire your love for each other will remain constant.

I hope my faith remains unshakeable forever because it appears that you will be together till the end. Wishing you all the best.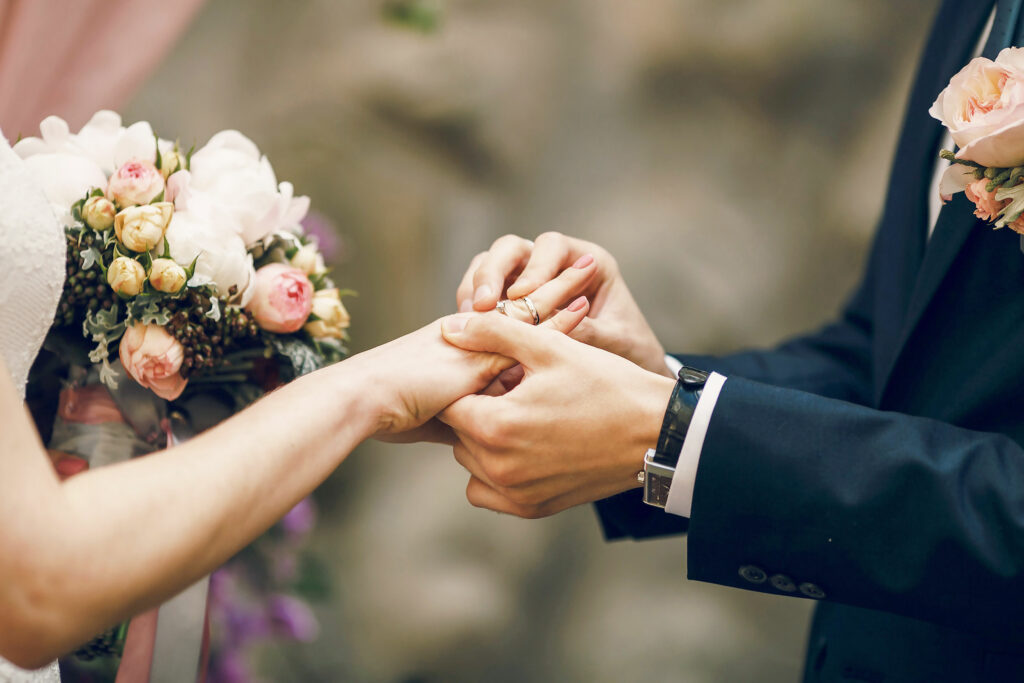 Formal Wedding Wishes
Traditional wedding wishes are ideal when conveying a timeless, classic, and romantic message. If the significant day elements include floor-length gowns, gleaming chandeliers, and costly centrepieces, consider utilizing formal wedding wishes to show your joy for the happy couple. You may also use your wedding wishes to reflect the event's topic. The following are some traditional wedding wishes.
I wish you love and happiness for the rest of your life.

May the next years be filled with enduring delight.

Best wishes on this incredible journey as you start your new life together.

Thank you for letting me be a part of this happy occasion. I wish you all the best of success as you begin this excellent collaboration.

I want you the love and happiness as you start a lifetime of love on your wedding day.

What a wonderful day. May the love and pleasure be your experience now last a lifetime.

When you two tie the knot as one, your family and friends partake in the oneness of your marital union; may this wedding be a bridge to bring you happiness, peace, and success.

As new couples begin a new life, you become valuable to our society and the globe.

Make love the centre of your daily existence. May you discover hope, serenity, and faith in each other's embrace.

Welcome to the family. We couldn't be happier as you bring laughter and smiles to us. Congratulations on your marriage.
Funny Wedding Wishes.
Remember that a feeling that appears to be a jest on paper might be misconstrued. That being stated, divorce jokes are not permitted! When writing your hilarious wedding wish, use your best judgement, and you'll be well on making the lovely wedding card with a portion of chuckles.
I realized you two were passionately in love, but I didn't believe you'd be insane enough to marry. Have a wonderful life ahead of you.

You have no question that you adore this girl/guy to the person who couldn't afford drinks while he went out with the boys but is now squandering his wealth on his lavish wedding! Congratulations.

You've finally met someone who gets your strange humour. Keep them safe forever!

Nothing is worse than a friend getting engaged. My parents now have one more motive to get me to marry. Congratulations.

Pleased to invite us to your wedding reception to eat and drink. Congrats!

Our marital advice is to love, honour, and clean the toilet.

Thank you for the complimentary alcohol. Congratulations on your long and happy marriage.

Marriage signifies the conclusion of a love tale and the beginning of a wrestling bout. In any case, best wishes for everything.

Marriage is a beautiful thing. You've finally discovered that one individual you can irritate for the rest of your life.

You are becoming two from one on your wedding day. Does it imply I'll get two birthday presents from you each year?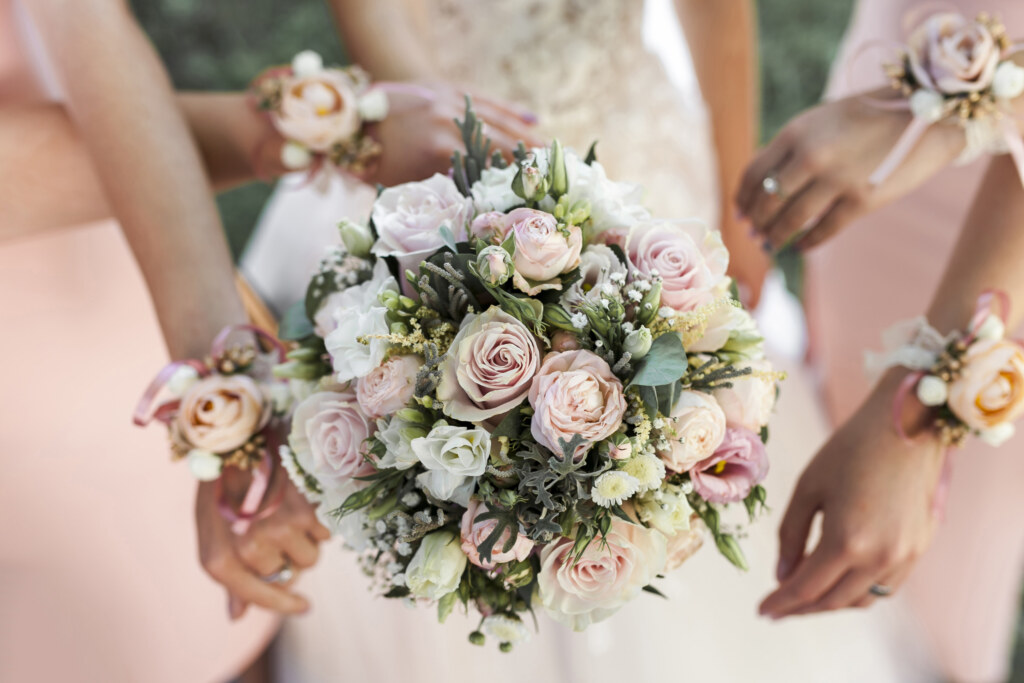 Religious Wedding Wishes
Sharing a respectful relationship with the bride and groom might be an excellent approach to personalize your wedding wishes. Spiritual wedding messages show the soon-to-be-wed pair or newlyweds that you are thinking about them and praying for God's blessing on their marriage.
Here are some religious wedding wishes that u can send to the pair:
Fear has no place in love, but pure love drives away fear.

May you and God continue to walk together.

God bless you both abundantly in passion, pleasure, and happiness.

I wish you all the best when you start your new life together. God has so many amazing things for you and your future together.

We are excited to discover what Lord has in store for you two.

We agreed because God said so.

May God bless you and carry you thru a lifetime of pleasure and blessings.

May God bless your wedding and marriage.

Let us rejoice at what God has connected!

Celebrate your love for one another! God bless u now and forever.
Wedding Wishes for Friends
Is your best buddy marrying? You may wish them well enough on their new voyage with their other half with the ideal welcome. When composing a wedding card message for pals, you may be as personal as you like or keep things broader.
I hope you have a magnificent ceremony and a lifetime of beautiful memories! On this joyous day, congratulations on discovering your life mates.

Congratulations on one of your most unforgettable days! Congratulations on your joyful and fruitful marriage to two individuals who genuinely deserve each other.

I wish you gain all the pleasure and merriment for your marriage ceremony and a long and happy married life! Best wishes to some of my favourite folks.

I can't wait to read the next episodes of your life tales, which you'll write together. Congratulations on your wedding day!

I can't come up with two people who deserve genuine love and happiness for the rest of their lives. Congratulations on the wedding of some of my dearest friends!

Congratulations on your nuptials! You are a wonderful person and a wonderful friend. I am confident that you will be a decent family guy as well. I can't wait to see your glorious future, a happy wife and lovely children.

Best wishes for your wedding. I wish you all best of luck in the future as you continue to fall in love.

You are the most perfect couple for each other. Let us hope for a bright future for you.

I couldn't be happier as today is the most important life event we've celebrated recently.

The fortune-teller was correct. You did meet the right one in your life. Best wishes, both of you two.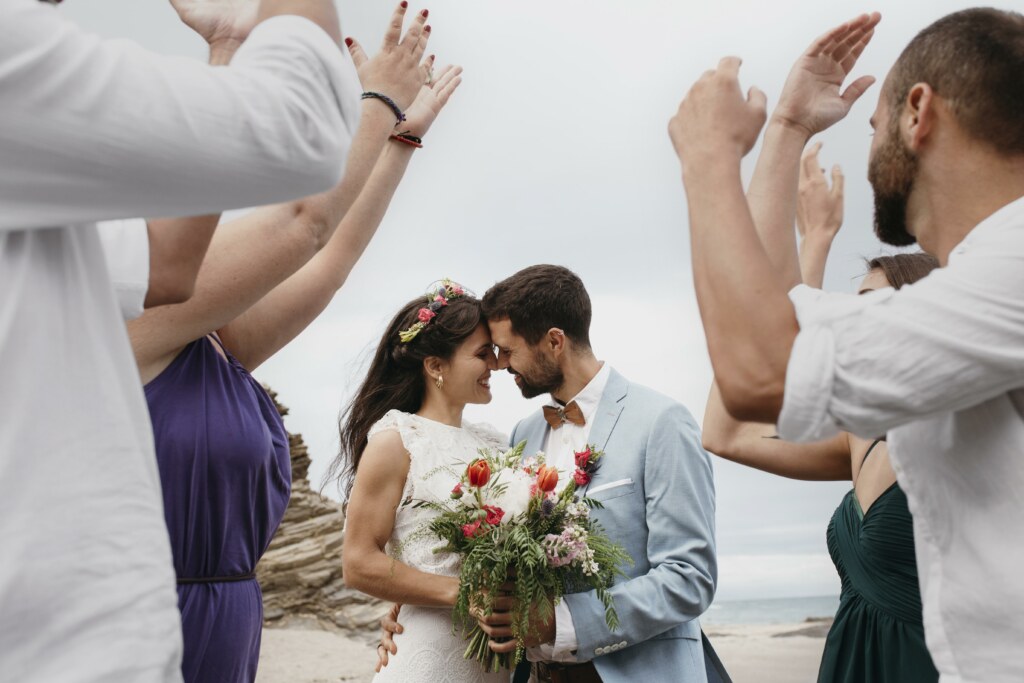 Wedding Wishes for a Family Member
Are you attending a close relative's wedding? You should make an outlandish wedding wish for people who know you the most or whom you learn best. Writing a unique wedding card message is a beautiful way to greet their new spouse into your family. These wedding greetings for mom, dad, and siblings are guaranteed to please. You might wish to include one of the following feelings in your wedding card wording.
Congratulations on your beautiful wedding! Congratulations to the pair, who have two great hearts! Have fun with life.

Best wishes to the hero! Congratulations on your wedding! I wish you a happy and wealthy life.

Congratulations to one of the most responsible family members on your wedding day! May the power of bonding and love light your life!

God is a powerful connecter of honest and lovely souls! May God shower all of his wishes on my cherished family member! Congratulations on your upcoming wedding!

This announcement has made us all incredibly happy. Congratulations on this important day, my beloved! Congratulations on your wedding!

Marriage always makes life more lovely! I desire and hope that you may enjoy and experience all of life's pleasures with your beautiful life partner. Congratulations

I like to congratulate you on making the finest choice of your life. May this special event shine a bright light on your future! Congratulations, my dear family member.

It is believed that the finest companion is God's blessings! It's lovely to know you're marrying your soul match. Congratulations on the occasion of your wedding.

Congratulations to the most devout member of my family. Best wishes to the world's brightest pair, and congratulations on your wedding.

At the beginning of a relationship, happiness is always veiled. It is reassuring to think that you have made the best life decision. Congratulations on your nuptials! We admire you and wish you the best.
Wedding Wishes for a brother or sister
You were born and raised with this individual and shared many of life's most memorable moments with them. Today is just one of those excellent connections that will rise to the top of this list. You may make it even more special by sharing a tender moment or inside jokes from the past. Make sure to remember the new addition to the family as well! When writing a card for one of your siblings who are getting engaged, write what comes naturally to you.
Sister, congratulations on your wedding. I hope you and your hubby the best as you go on your new adventure. I am confident that you both will be content together.

Who would have guessed my sister would marry, let alone to such a beautiful man? I hope that you both have a lifetime of happiness together. Congratulations.

I wish you a happy life with my beloved sister and her future fiance. I'm excited to meet my new brother-in-law.

Many dreams will come your way, but select the finest one to stay with you forever!!! Best wishes to you both on your wedding anniversary!

I can't believe my younger sister is marrying. You know that this does not imply that I will cease to defend you. My darling angel, you will always be. I wish you a lifespan of exciting adventures.

I'm looking forward to being an uncle.

Blessed to be the brother of the world's most gorgeous bride. I can't wait to watch you start a new life with a guy that needs you. Congratulations on your marriage; may it be filled with love and happiness!

My darling sister, you are very blessed to be receiving such heartfelt love! Best wishes for the future!

We grew up in a loving and happy family, and now you're old enough to establish your own. Dear sister, I wish you the same compassion and wisdom as our mother and our father's same dignity and strength in your future spouse. Then that would be the ideal family.

There will be difficult times, but remember that real love always triumphs! To the moon and back, I adore you!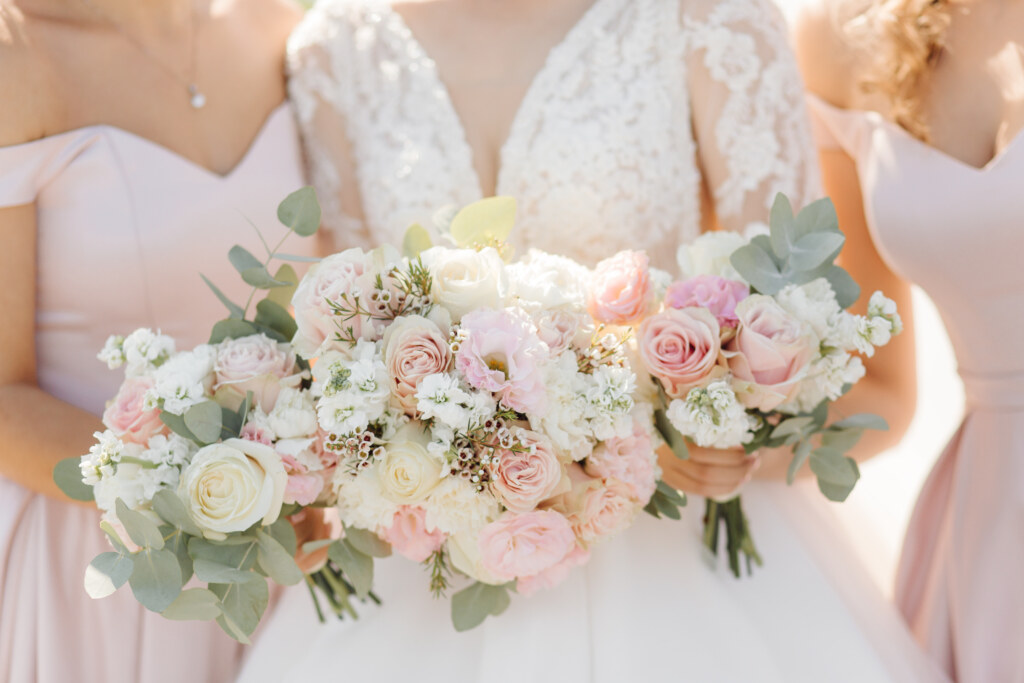 Wedding Wishes for a son or daughter
When your kid marries, it's a big thing. In fact, you might be wondering, "Where on the earth did the time go?" In addition, as your wedding day arrives, you will be experiencing a wide range of emotions. You may not even realize where, to begin with, a pen in hand. This will be one of those problematic occasions to put into words, so utilize your emotions and let these sample wedding sayings guide you. Begin by wishing the couple and their future happy life. You might also share some about your own marriage and love to advise.
Leading you down the aisle seemed a long way away on the day you were born. I am honoured to gift you to such a wonderful and caring man. With the addition of a new son-in-law, my heart feels complete. I am confident that you two will look after one other and establish a lovely family.

I haven't seen you look more stunning than in a wedding gown. My darling daughter, all grown up, has an ethereal quality about her. You have elements of your mom in you, but you have always had my grin. Wishing you best wishes for future experiences and moments with your new hubby. I adore you.

We were concerned about our young child on your first date. You've grown into a lovely young girl who can look after herself. It's no longer our responsibility to be concerned now that you've found an excellent partner. Be kind to one another and remember to do the simple things.

I feared your father was having a stroke when you announced your engagement. You have to excuse him for jumping to the worst-case scenario. Your new spouse has become a part of our family as our son. Every day when the sun rises, do your best to love one another.

I spent most of our time together educating you on being a wonderful lady. I am constantly amazed by how much you understand life. You appear to have everything worked out, but marriage is a unique kind of learning. It will be fantastic if you are constantly supportive, forgiving, and patient.

I am delighted to see you mature into the guy I always hoped you would be. As you begin a new journey into the unknown, I wish you the best of luck and hope you realize that you are adored!

We are delighted to be welcoming this fantastic young lady into our family! It's impressive to watch how glad she makes you and how pleased you are. So, congratulations on this momentous occasion, and may you enjoy the rest of your life with only love and peace in your hearts.

As you marry your lovely spouse, you will reach a watershed moment in your life. I couldn't have asked for a greater daughter-in-law, and I am thrilled to see the lovely guy you have grown into. She is undoubtedly a blessing. I adore both of you.

Watching you as a child and then as an adult is a once-in-a-lifetime experience. You've grown into a responsible, gifted, and giving young man, and you'll have the opportunity to marry your true love. May your future together be blessed, and please know that we will forever care for and love you both.

Please realize that I will always adore you as my little child as you move forward in your life. But I also understand that each day offers more excellent knowledge and improvement. So I joyfully hand over my little child to the lady who will make you complete. I adore you.
What to Write in a Wedding Card to a Coworker
When deciding what to write on a wedding card to a coworker, remember that your greeting should be pretty informal and regular. It's a good idea to discover a wedding quotation that inspires you and share it with the soon-to-be-weds. Again, what you write will determine your connection with your coworker. If you have a strong bond with a coworker getting married, you might want to look for message ideas under what to put in a wedding card for a buddy. If not, these office-appropriate greetings are the ideal complement.
Congratulations from everyone at work, and best regards for the exciting new life you're about to embark on.

Congratulations, and best wishes for a better life together.

I was delighted to have attended your wedding. We aren't the closest coworkers, but it meant everything to me. Congratulations and best wishes for a cheerful marriage!

Best wishes for this exciting moment in your life. We can't wait to watch how marriage changes your life and how having a partner makes you a more likeable man.

You're giving all of the single individuals in the office optimism. Best wishes for your new journey together, you and your new husband.

When two people get to be a team, they form a marriage.

We've noticed a significant improvement in you at work, and we're delighted that you're content. Congratulations on your wedding, and best wishes for this new chapter in your life.

I'm so glad you've finally met the one who completes you and improves you as a person. I wish you all the best throughout this exciting moment in your better beginning.

Thank you for asking me to be a part of your and your family's special day.

I'm delighted I met you at work, and I hope you and your fiance/wife have a long and happy life together.
Wrapping Up
As you plan to send your best wedding wishes, make the special day even brighter with joy and happiness surprises from 50Gram. Whether you looked for a package of bridal bouquets paired with wedding gifts or sweet treats and specialized in wedding, the couple will be grinning from ear to ear with your surprise.
Besides weddings, 50Gram offer other flower bouquets for every special occasion such as birthdays, anniversaries, Mother's Day and more. Order with 50Gram to enjoy free same-day delivery today!