Gypsophila a.k.a Baby Breath
The Baby's Breath aka Gypsophila is a flowering plant that belongs to the Carnation family. The most noticeable element about Baby's Breath is that they come in many colours especially light and pastel tones. It is this aspect that made Baby's Breath such an alluring choice for flower bouquets. 
With the different colours of Baby's Breath, each colour has its own symbolic meaning, giving people many choices to find the right gift for their receivers. This also opens up many new designs imaginable as long as there is creativity.
Our floral designers at 50Gram wrap bouquets and create new designs every day with Baby's Breath for our customers to ensure the best gifting experience possible.
Let's start with the meaning for each colour Baby's Breath represents!
White
Symbolizes purity and innocence, it is specifically that reason it is the perfect gift for both weddings and baby showers. 
Red
Represents love and passion. There's not really much to say other than it is the best gift for lovers. Pair this with any other gifts and the flowers will always complement the whole presentation!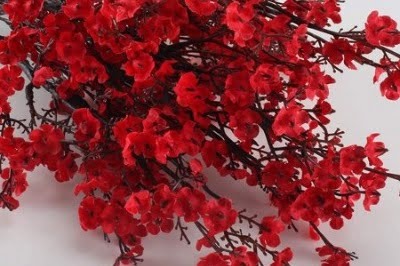 Baby Breath Red – Photo by BAMAIA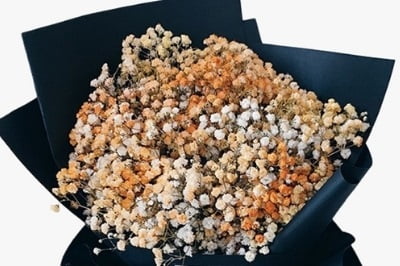 Baby Breath Orange
Orange
The colour of joy and energy, perfect for those who are warm at heart and in action. The sun of one's life.
Yellow
The colour of friendship and radiance, you always find those who have the most smiles and laughs the most favouring this colour.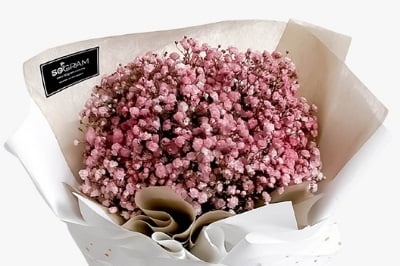 Baby Breath Pink
Pink
The tenderness of this colour symbolizes gentle emotions and affections. It complements anyone with a soft heart.
Blue
The pastel light hue of this colour has more of a feeling of freedom and soothing peace than the formal blue colour we see every day. Great for those who love new adventures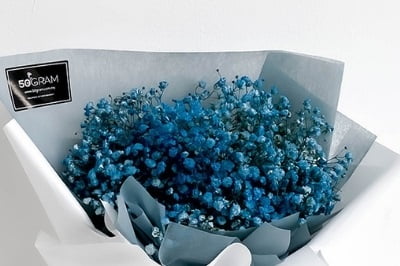 Baby Breath Blue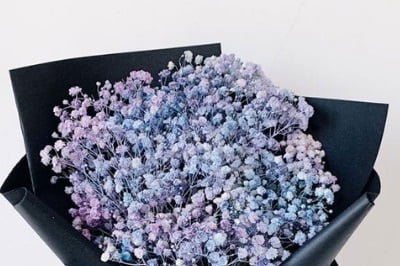 Baby Breath Purple
Purple
Usually the colour of nobility and royalty, a unique colour that not only stands out but also makes a statement when it comes to gifting. While you can gift others with a single-coloured Baby's Breath bouquet, there are many creative ways we can play around when it comes to combining the colours of Baby's Breath. Some of the best examples from our floral designers at 50Gram are:
Baby Rainbow
Mini – RM59.90
Medium – RM138.00
Large – RM218.00
Product Link – https://50gram.com.my/product/baby-rainbow-baby-breath-bouquet-medium/
Other than it being named after the Lambo, it is also inspired by the rainbow that makes anyone feel magical just from the sight of it. It is one of the very Instagrammable bouquets we have thus far.
Inspired by the dark yet vast universe above us, it is designed with pastel hues of blue, purple, and pink. Because of how unique the colours and the meaning behind complemented each other, it is one of our bestsellers.
Want to find more combinations of Baby's Breath designed by our florists at 50Gram? You can find many of our Baby's Breath bouquets from our collections here!